It is amazing what is available out there that most people don't notice. If you have a business page, you can go into the edit page section and under resources (on the left) find a great little guide that Facebook has created covering the basics of Facebook business pages. Not so much a step by step how to and specific examples but some great guidelines that you should work by.
This week I have collected the guide and posted it page by page below, with a few notes from myself on how you can best utilise what is noted or some little pointers. You can download the full original Facebook released document here: Building Your Business with Facebook Pages Guide
Click on the images below to see them in a larger view so you are able to read through the instructions.
The Facebook Mission
We definitely agree with this one!
A basic Introduction
While based on American statistics the introduction provides a small insight into the size of Facebook – Now 700 Million + users worldwide!
The three main steps of maximising your page
We agree with these only would add one more, rinse and repeat! Just because you find something at the beginning that works, it doesn't mean it will work forever, adjust your strategy slightly every month and you will keep your likers engaged.
Start the Conversation
We couldn't agree more, just read our "Like your way to the top of Facebook" post, we go into details on how you can determine your goals and strategy and use them to maximise your page.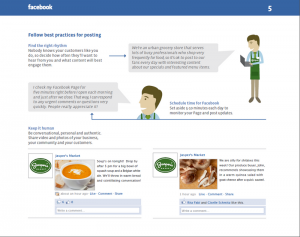 Follow best practices for posting
This goes without saying, keep your posts human and frequent. Sending posts that sound like they come from an automated robot, or posts that are exactly the same each time will bore your likers and all the effort you put in to attract them will be lost.
Encourage Participation
Provide your fans content that they would not other wise receive, this does not have to be in the form of freebies or competitions (although this is a perfect strategy!) but also in the form of sneak peeks and behind the scenes content. While behind the scenes could be a bit tricky or boring for accommodation it's definitely something that would be appreciated during refurbishment time or for tour services.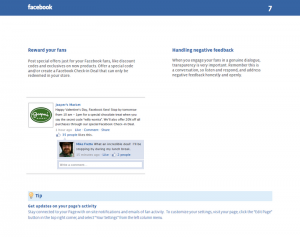 Reward fans
This is where your offers and competitions come into play, convert your likers into paying customers. Although you maybe offering a discount to get them to purchase the first time you need to utilise your other relationship strategies to ensure they become return customers. This email newsletters, off-peak deals, refer a friend etc. The other part of this slide we agree with is handling negative feedback well, just like your TripAdvisor reviews you need to respond to Facebook negative comments constructively rather than destructively; launching a personal attack will do nothing but damage YOUR image, not theirs.
Develop a Conversation Calendar
Right on the money! Develop a calendar and ongoing repeated pattern for occasional posts – this will make it easier on your business and will set up an expectation and following for a certain type of post at a certain time. Remember, not every post should be a repeated pattern, just a special selection every so often. You still need to send other mixed topic posts.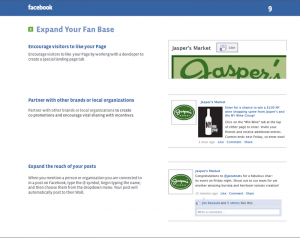 Expand your Fanbase
Utilise your mailing list, your face to face customers, your business cards and your email signatures with links to your Facebook. Recommend other great businesses in your region (and ask them to recommend you too).
Use plugins and Facebook functionality
Don't forget what other tools Facebook offers, places and check-ins is not only great exposure for you but fun for your likers and their friends!
Analyse and Optimise
Don't forget about Facebook insights. You can access your insights (Facebook's version of Google Analytics) by going to your page, clicking the Edit link and selecting it from the left hand side. Great data such as demographics, your most successful posts, when and how many likers you have and how people interact with you is very useful for when you are planning your Conversation Calendar. Insights will only start working once you have 25 likers or more, so make sure you get your likes up and interactions underway.
Sample Conversation Calendar: The Bridge Concert Hall
Sample Conversation Calendar: Home by Design online retailer
Sample Conversation Calendar: Smiling Buddha Yoga Studio
Other great resources
Recovering the basics of Facebook from time to time is beneficial for all businesses, but one of the most important messages that you can learn from this guide is that the best way to succeed is to develop a personable relationship with your page likers through a combination of update types and strategies. Developing a Conversation Calendar is a sure fire way to support your Facebook communication and to ensure that your postings and efforts are all working towards your main goals.